Second Sunday of Easter: Divine Mercy Sunday
Posted by Anne Elizabeth on April 23, 2017
**********
Week Three Reflections, click HERE …
***********
Reposted: 4/23/17– Divine Mercy Sunday
If you don't already have a copy of Fr. Michael Gaitley's book, you can order it HERE and read the full story of a Saint and the Pope who made her a saint.  It's also available as an e-book.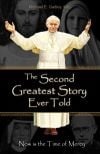 On April 30, 2000, Blessed John Paul II said in his homily during the canonization of St. Faustina:
"Today my joy is truly great in presenting the life and witness of Sr. Faustina Kowalska to the whole Church as a gift of God for our time… In fact, it was between the First and second World Wars that Christ entrusted His message of mercy to her… Jesus told [her]: Mankind will not have peace until it turns with trust to My mercy (Diary, 300)….

It is not a new message but can be considered a gift of special enlightenment that helps us to relive the Gospel of Easter more intensely, to offer it as a ray of light to men and women of our time.  What will the years ahead bring us? … We are not given to know… But the light of Divine Mercy, which the Lord in a way wished to return to the world… will illumine the way for men and women of the third millennium…
It is important then that we accept the whole message that comes to us from the Word of God on the Second Sunday of Easter, which from now on throughout the Church, will be 'Divine Mercy Sunday'. " ~Blessed John Paul II, Homily, April 30, 2000: Canonization of St. Faustina
Please also pay a visit to Mark's Post which speaks URGENTLY on the state of our world today & the IMPORTANCE of Divine Mercy for us NOW… The Hour of the Sword
"Jesus looked at me and said, 'Souls perish in spite of My bitter Passion.  I am giving them the last hope of salvation; that is, the Feast of My Mercy.  If they will not adore My Mercy, they will perish for all eternity…tell souls about this great Mercy of Mine, because the awful day, the day of My Justice, is near."  ~Diary§965
God's Mercy, especially at this time, is unprecedented and should not be taken lightly.  With our world steeped in the Culture of Death, it is a wonder we are all here to "talk about it".  I thank God DAILY, that I am not He.  You should too!  If I were God, my patience would have worn thin long ago with mankind…and that would include myself…Oh the irony!
"Speak to the world about My Mercy; let all mankind recognize My unfathomable Mercy. It is a sign for the end times; after it will come the Day of Justice. While there is still time, let them have recourse to the font of My Mercy; let them profit from the Blood and Water which gushed forth for them."(cf. Jn 19:34-37) ~Diary, 848
"… Today I am sending you with My mercy to the people of the whole world. I do not want to punish aching mankind, but I desire to heal it, pressing it to My Merciful Heart.  I use punishment when they themselves force me to do so;  My hand is reluctant to take hold of the Sword of Justice (cf. Rev 19:11-16).  Before the Day of Justice I am sending the Day of Mercy."~Diary, 1588
It's that taking of the first steps that are the hardest.  Letting go of oneself and the PRIDE that stands in the way of God POURING OUT HIS LOVE on all that will COME TO HIM IN HUMILITY.
If you are spending time resting in concepts that are eternal, your mind and heart will be in harmony. You will become less influenced by events and you will become less distracted. You will trust more and understand that heaven is advancing its interests through many means. You will, if you are spending time with Me, develop a keen interest in the Spirit that is moving the Church forward into a new time of fidelity and purity.
Yes, renewal will become a reality in your heart and you will watch all change with hope and confidence.
I want to give you courage and strength. I want you to understand the Spirit moving through the Church and into the world. I want this very much. ~Monthly Message, excerpt, April 2012  (emphasis added).
REPENT…PRAY (see below) and…CALL OUT for HIS MERCY!
Recommended Reading:
Sorry, the comment form is closed at this time.